Paper one: Levelling up communities
Paper one: Levelling up Communities
This first report presents the Commission's initial analysis on communities and shows that disadvantaged communities and groups have been hit hardest by the Covid-19 crisis. It argues that to tackle these impacts and long-running economic and health inequalities, a new approach to levelling up is needed; one that focuses on people as well as places.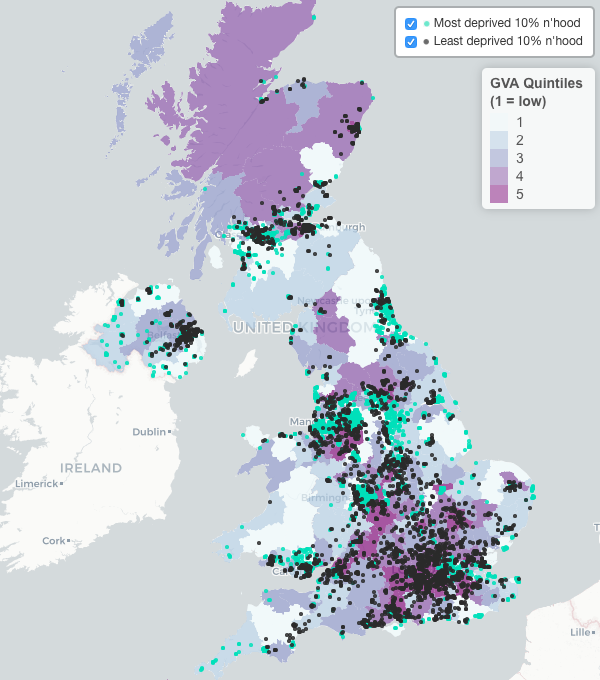 The most deprived neighbourhoods are found in every part of the UK, including in some of the wealthiest parts of the country.
More than half of people living in the 10% most deprived neighbourhoods are found outside the North of England (36% in the rest of England, 15% in Scotland, Wales or Northern Ireland). 18% of people in the most deprived neighbourhoods – 1.15 million people – in the UK are living in Local Authorities with the highest economic output.
The pandemic has hit disadvantaged communities hardest
Mortality rates from Covid-19 are highest in the most deprived neighbourhoods in the UK. In the 20% most deprived neighbourhoods there has been an average of 21 more Covid-19 deaths per 100,000 population compared to the least deprived neighbourhoods.
Unemployment benefit claims have risen most in those areas in which there were already high rates of claims.
Those neighbourhoods in the highest 10% of unemployment benefit claims prior to Covid-19 have seen a 5.4 percentage point increase in claims, compared to a 2.3 percentage point increase for those in the 10% with the lowest claim rate prior to Covid-19.
John Allan CBE, Chair, Covid Recovery Commission
"A levelling up agenda which targets interventions at the local level will have the best chance of success in reducing long-running inequalities. It is critical that we provide a ladder of opportunity to those communities most in need."
Want to learn more? Get in touch
The Covid Recovery Commission's work is now finished. The Secretariat was provided by WPI Strategy and the analysis conducted by WPI Economics. If you would like to find out more about their work please contact Nick@wpi-strategy.com or Matthew@wpieconomics.com